Granny's Determination
Granny's determination to keep her abandoned grandchildren alive, 7 years on
Despite going through dreadfully hard times; starvation, rape and a fire that razed down her home and few poor belongings, Marion Ciamuntu has managed to bring up her two grandchildren from few days old to 7 years today.
Marion Ciamuntu, a 63 year old granny and  her two gandchildren work the patch of land outside the shanty they call home in the hope of growing a crop of vegetables to provide some food for their meagre diet.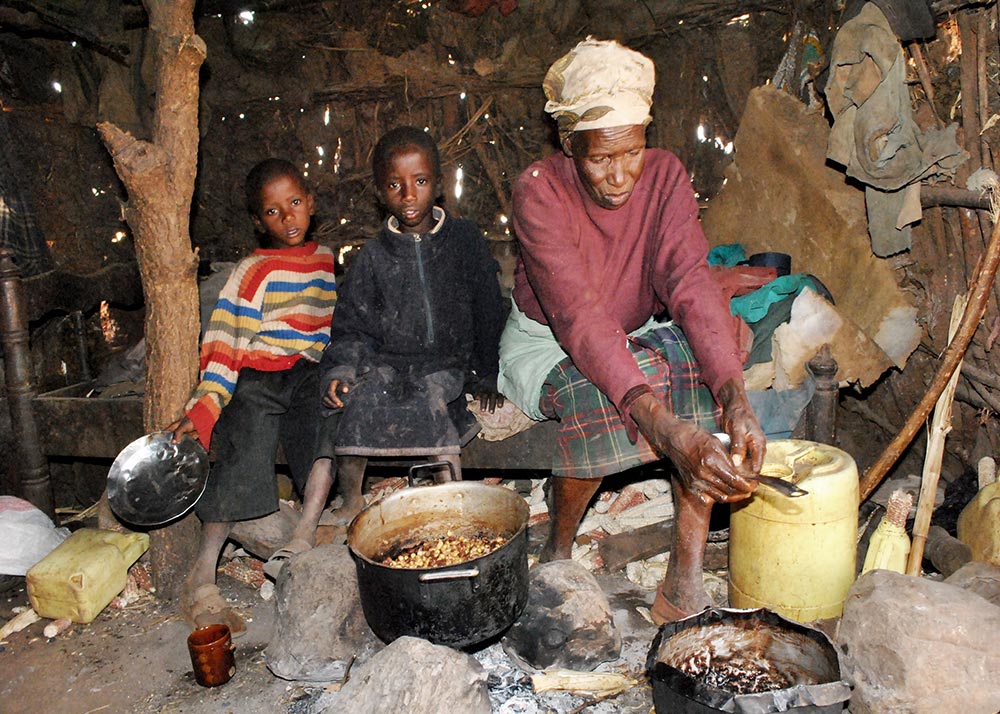 Though the area has not experienced sustainable rainfall for the last seven years, her earnest prayer is the much needed rains do not fall, at least not until the crumbling roof and walls of her home are repaired.
Her two grandchildren, Kevin Mwingirwa, 8, and Boniface Thuranira, 7; dressed in near tatters fondly tug at their granny's aging skirt to express the bond and sense of security they have developed for the last seven years after they were abandoned by their parents.
Unfortunately, the grandmother whom the two innocent toddlers are clinging to lives in fear, despair and utter distress because of all that has happened to them in the last seven years.
Left with babies, who were not yet finished with breastfeeding, Marion resolved not to let the children die in her hands; she would knock on every door to ensure they had something to live on.
The desperate babies would cry themselves sore at night yearning for their mother's breast milk and she was forced to give them her dry breasts to suckle so as to calm them down.
Problems descended on them as she was not able to harvest anything for several seasons due to rainfall failure in the area. They had fallen back into the pit of starvation.
"I would buy tomatoes, fry them and add some water to feed the children. We survived on tomato soup for weeks," the granny relates.
Her shanty was razed down by fire destroying the few possessions that she owned. She constructed the current mud walled hut with support from well wishers.
The creation of a new location in the area brought good tidings to Marion and her malnourished grandchildren as she ran to the newly appointed Chief; Mr Silas Kinyua and made her troubles known.
"It is the Chief who has been sustaining us with food until now. When I don't have anything, I always run to him for food, nor are the children in school" she laments.
Inside their hut, the suns rays can be seen at every angle due to the many gaping holes that dot the wall, there are only three stones for the fireplace and a dusty bed with no blankets.
"Now that we are coming to the rainy season, I don't know where we will stay. When it rains, I have to place empty containers on the bed and all over the house to trap the rain water."
"I hide the children under the mattress and cover them with sacks so that they are not rained on from the leaking roof," she says.
With pain, she recounts how she has been attacked and raped on three occasions at night in her isolated hut.  According to her, she can no longer work after she was injured by her assaulters.
"The grandmother has gone through very many problems. Their house is hardly habitable and we urge well-wishers to come to their aid,"  Chief Silas Kinyua remarks.
In the meantime, Marion who has borne the brunt of rejection, brutality, poverty and untold suffering waits in hope for someone to take off the heavy burden she has been carrying for the last seven years.
The Patrick Muthuri Family Foundation is asking well-wishers to help them to help Marion and her grandchildren by building a decent house for them, to give them food, supply cloths and take the children to school.