Spring Newsletter 2017
A lot has happened since the launch of the Friends of Patrick Muthuri Family Foundation – UK during March of last year. How time flies…
Patrick and Lydia Muthuri.
Patrick
Lydia
Patrick and Lydia work tirelessly to raise funds in support of the Patrick Muthuri Family Foundation-Kenya. In February, they celebrated the 7th Anniversary of the PMFF with a gathering of their friends, their church, their community raising KES 200,000 a tremendous achievement.
I am pleased to confirm we now have seventeen 'Friends' making a monthly contribution to the 'Fund' by bank standing orders, fourteen 'Friends' who have made a cash donation and two 'Sponsors' of individual children, Doreen Nkirote and Ian Kaime, who will now have their school fees paid on an annual basis.
From the monies so generously donated we have been able, to transfer to the Patrick Muthuri Family Foundation – Kenya £1,500:00 = KES 186,000.
Currently 60 orphaned children are receiving financial support in the form of school fees, school uniforms, sanitary products, and when required health care with many more needing help which PMFF is trying to provide.
Children at the age of 7 should be going to Primary School joining Class 1. By the time, they have finished Class 8 they are aged 14 and will have completed the Kenya Certificate of Primary Education (KCPE) allowing them the opportunity to go to Secondary School providing they have achieved the necessary grades.
Primary School is free but the parents are required to pay in the region of KES 3000 for school uniform, shoes and books. Orphaned children, due to lack money, are excluded and often as not end up at risk on the street.
Uniform
Shoes
Books
Secondary School is very expensive. Only those students who have obtained the necessary KCPE grades are admitted. If an orphaned child performs well at KCPE but does not obtain a sponsor or receive a PMFF scholarship they will miss the opportunity of obtaining their Kenya Certificate of Secondary Education (KCSE).
Students referred to PMFF are evaluated based upon financial/family circumstances, 8th grade (KCPE) exam results, Primary School class rank, and the applicants' personal essays.
If successfully awarded a PMFF scholarship, each student is placed in the school most suitable to their needs. The scholarship includes tuition fees and all associated expenses, school uniform, books, sanitary products, medical care and transportation if required.
PMFF students also benefit from a comprehensive mentoring and workshop programme.
Studies show that access to a secondary education is a necessity for breaking the cycle of poverty and achieving social and economic progress. PMFF recognizes the value of providing access and opportunity where it would not otherwise exist.
PMFF receives between 100-150 applications for scholarships each year. The children are from across Meru County and are referred by churches, primary school teachers or village leaders. Most are orphans because of their parents dying from HIV/Aids, Tuberculosis, or abandoned by parent(s) unable to cope. This results in them being taken in by aunts, uncles or ageing grandparents unable to fund any form of education. Two such children are:-
Susan Makena Mutai who lost both her parents to HIV/Aids and now lives with her unemployed uncle. Susan is a bright, hardworking and focused student but has been excluded from school because her uncle is unable to pay her school fees for the year of KES 30,000 pa, £60 per quarter
CAN YOU HELP?
Kelvin Koome was 'thrown away' by his single mother, the father is not known, and now lives with his sick grandmother who cannot afford to educate him. Kelvin has been excluded from secondary school after they failed to raise school fees of KES 54,000 pa, £100 per quarter
CAN YOU HELP?
The current situation in Kenya, as with other African countries, is serious as they try to cope with the terrible drought, sickness and starvation affecting swathes of their country. A national emergency has been declared with 2.7 million suffering food insecurity and 180,000 children dropping out of school as food prices rise, unemployment increases and parents are no longer able to pay school fees.
It is against this background that PMFF finds itself under increasing pressure to provide school fees, health care and welfare support for the orphaned children within their community.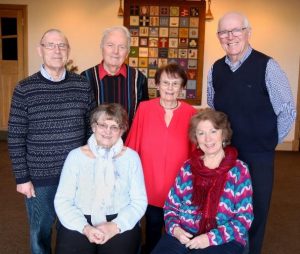 From the Committee THANK YOU
It has been a busy but very rewarding year knowing Patrick and Lydia now have many more 'Friends' here in the UK wanting to help those desperately poor, orphaned and vulnerable children, and that they are no longer on their own.
Alan Tarry Chairman.
If you have a member of your family, or a friend, who would also like to make a gift, it would be most appreciated.
Your gift will change the life of a child forever.
Email: contact@patrickmuthurifriends.org
Every £1 donated to Friends of Patrick Muthuri Family Foundation goes to help the
orphaned children. No administrative costs are deducted.